Homeowners enjoying concerts, movies under the stars, farmers markets and more
BARNEGAT, NJ – Residents of Escapes Ocean Breeze, a luxury active adult community from Paramount Homes at the Jersey Shore, are thoroughly enjoying a complete lifestyle transformation. From concerts to farmers markets, community-wide events offer the chance for homeowners in this energetic community to have fun while mingling with their neighbors.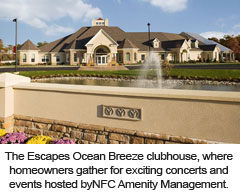 "Paramount Homes has brought NFC Amenity Management on board to provide Escapes Ocean Breeze residents with memorable community experiences," said Jacqueline Urgo, President of The Marketing Directors Inc., Marketing and Exclusive Sales Agent for the community. "NFC Amenity Management is the largest national provider of full service amenity management services, specializing in the design, development, and on-site management of active adult communities."
NFC kicked off the community's lifestyle transformation with a showing of the film of Lady Gaga and Tony Bennett's sold out concert, Cheek to Cheek. Since this event, the community has hosted weekly mini-farmers markets and a poolside summer rock concert featuring The Jersey Sure Cats.
"The Jersey Sure Cats brought classic beach rock 'n' roll right to Escapes Ocean Breeze," said Urgo. "Over a hundred residents and guests came out to join us to dance, relax, and spend time with their neighbors." Attendees were treated to a light lunch and frozen fruit drinks while enjoying this popular local band.
By surveying homeowners to determine their interests and creating clubs that focus around activities such as hiking, biking, painting, reading and golfing, NFC Amenity Management aims to continue to bring lively events, functions and clubs to Escapes Ocean Breeze. These successful summer gatherings, Urgo believes, are just the beginning of an exciting new era at this warm shore community.
"We have an all-star lineup of activities planned for the rest of the summer and beyond," said Urgo. "On October 24th, we're hosting a Classic Car Show & Music Fest where we'll have cars on display from the Vintage Auto Museum of New Jersey. Attendees will have the chance to grab lunch from food trucks and can enter for the chance to win a Mustang."
In the upcoming months, the community at Escapes Ocean Breeze can look forward to new fitness classes, clubs, bus trips to New York City, and several events including a movie under the stars, a Labor Day barbecue, and live entertainment on Saturdays in the card room. NFC Amenity Management is also bringing area professionals for useful and informative presentations that directly benefit homeowners: the Tips for Healthy Lifestyle series will continue on August 18th with a session on hearing health and a technology workshop on September 3rd will focus on using smartphones.
Those interested in learning more about the community are invited to visit Escapes Ocean Breeze on Saturday, August 22nd for the Jersey Boys event, which will feature refreshments, fun, and the music of Bruce Springsteen and Frank Sinatra.
"We want to welcome prospective homebuyers to truly experience Escapes Ocean Breeze. It isn't just a collection of luxury homes: it's a lifestyle," Urgo said.
The homes at Escapes Ocean Breeze offer up to 2,693 square feet of living space including two bedrooms, two baths and two-car garages. Pricing begins in the low $300s. The Escapes Ocean Breeze Information Center is open daily from 10 am to 5 pm. The Marketing Directors Inc. is the marketing and exclusive sales agent for Escapes Ocean Breeze. For more information about Escapes Ocean Breeze, visit OceanBreezeNJ.com or call 609‑698‑5540.